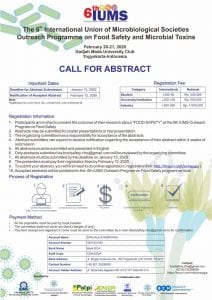 IUMS Outreach Program on Food Safety and Microbial Toxins
The 6th IUMS Outreach Programme on Food Safety and Microbial Toxins is an event held by International Union of Microbiological Societies collaborating with The Center for Food and Nutrition Studies Universitas Gadjah Mada. By joining this program, it is expected that attendees could expand their knowledge and contribute on food safety issues especially in Indonesia.
Invited Speakers:
Dr. Antonio F. Logrieco (Institute of Sciences of Food Production, National Research Council of Italy)
Dr. Sarah De Saeger (Ghent University, Belgium)
Dr. Andreja Rajkovic (Department of Food safety and Food Quality, University of Ghent, Belgium)
Dr. Vasilis Valdramidis (Department of Food Studies and Environmental Health, University of Malta, Malta)
Dr. Naresh Magan (Applied Mycology Group, Cranfield University, Cranfield, UK)
Dr. Angel Medina Vaya (Cranfield University, UK)
Dr. Emilia Rico (BCN Research Laboratories, Knoxville USA)
Dr. Robert A. Samson (IUMS)
Dr. Emmanuel Coton (University of Western Brittany, France)
Dr. Francisco B Elegado (University of Philippines Los Baños, Philippines)
Dr. Warapa Mahakarnchanakul (Kasetsart University, Thailand)
Dr. Latiffah Zakaria (Malaysia Science University, Malaysia)
Dr. Endang S. Rahayu (Universitas Gadjah Mada, Indonesia)
Dr. Roy Alexander Sparringa (Indonesian Food Safety Professional Association, Indonesia)
Dr. Okky Setyawati Dharmaputra (Seameo Biotrop, Indonesia)
Dr. Ratih Dewanti-Hariyadi (Southeast Asian Food and Agricultural Science and Technology Center – SEAFAST, Indonesia)
Dr. Ignatius Srianta (Universitas Katolik Widya Mandala, Indonesia)
Dr. I Nengah Sujaya (Universitas Udayana, Indonesia)
Dr. Widiastuti Setyaningsih (Universitas Gadjah Mada, Indonesia)
Dr. Yoyok Budi Pramono (Universitas Diponegoro, Indonesia)
Dr. Erryana Martati (Universitas Brawijaya, Indonesia)
Be a part of this outstanding event with experts all over the world by participating as attendees or presenting your research about Food Safety.
Event details:
Date: February, 20th-21st 2020
Place: Bulaksumur Hall, University Club, Universitas Gadjah Mada
Register now via this link https://tinyurl.com/iumsjogja
For more info, please kindly visit
https://tinyurl.com/infoiumsjogja
CALL FOR ABSTRACT
Participants are invited to present the outcome of their research about "FOOD SAFETY" at the 6th IUMS Outreach Program on Food Safety
Abstracts may be submitted for poster presentations or oral presentation
The organizing committee has a responsibility for acceptance of the abstracts
Abstract submitters can expect to receive notification regarding the acceptance of their abstract within 4 weeks of submission
All abstracts must be submitted and presented in English
Only abstracts submitted via foodsafety.cfns@gmail.com will be reviewed by the organizing committee
All abstracts must be submitted by the deadline on January 15, 2020
The presenters must pay their registration fees by February 10, 2020
To submit your abstract, you will first need to do online registration ( registration link: http://tinyurl.com/iumsjogja )
Accepted abstracts will be published in the 6th IUMS Outreach Program on Food Safety programme book
Important Dates
Deadline for Submission of Abstract              : January 15, 2020
Submission Guidelines
Presenting author's contact details:
Email address
Phone number
Presentation type:
Oral / Poster presentation
Author and co-authors' details:
Affiliation details
Department, Institution / University, City, Country
Title
Abstract text
Keywords
Word processor
Scientific category
Food Safety
Microbial Toxin in Food
FEBRUARY 20th, 2020

 

07.30 – 08.00
Registration
08.00 – 08.05
Opening
08.05 – 08.15
Welcoming Dance
08.15 – 08.20
Welcome Remarks from Dr. Iman Rusmana as President of PERMI
08.20 – 08.25
Welcome Remarks from Prof. Dr. Ir. Endang S Rahayu, MS as Chairman of Centre for Food and Nutrition Studies
08.25 – 08.30
Welcome Remarks from Dr. Robert A. Samson as Representative of IUMS
 
Plenary Lecture 1: Food safety
08.30 – 08.55
Dr. Angel Medina Vaya – Climate Change and Mycotoxins: Implications for Food Safety (UK)
08.55 – 09.20
Dr. Antonio Logrieco – MycoKey: A Success Story for Minimizing Mycotoxins Along Chains (Italy)
09.20 – 09.45
Dr. Robert A. Samson – Mycotoxins and Food Fermentation (Netherlands)
09.45 – 10.10
Dr. Roy Sparringa – Food Safety Management in Indonesia (Indonesia)
10.10 – 10.25
Coffee Break and Poster Session
 
Plenary Lecture 2: Foodborne Fungi: Risks, control, and opportunities
10.25 – 10.45
Dr. Emilia Rico – Role of Biofilm from Drinking Water Systems on The Spoilage of Thermal-processed Beverages by Heat-sensitive Fungi (USA)
10.45 – 11.05
Dr. Sarah De Saeger – Mytox-South: Global Partnership for Mycotoxin Mitigation and Capacity Building (Belgium)
11.05 – 11.25
Dr. Andreja Rajkovic – Decontamination of Selected Mycotoxins by Modern Mild Inactivation Treatments (Belgium)
11.25 – 11.45
Dr. Endang S. Rahayu – Mycotoxins: Regulation and Risk Management in Indonesia (Indonesia)
11.45 – 12.05
Dr. Ir. S Joni Munarso – Recent Advances in Reducing Microbial and Mycotoxins Contamination in Fresh Produces of Indonesia (Indonesia)

12.05 – 13.05
Lunch Break
 
Plenary Lecture 3: Methods and Approach in Food Safety
13.05 – 13.25
Dr. Vasilis Valdramidis – A Systematic Approach to Model (Myco-)toxin Production of Common Microbial Contaminants (Malta)
13.25 – 13.45
Dr. Francisco B. Elegado – Development of a DNA-based nanobiosensor system for rapid and accurate detection of food, feed, and water-borne pathogens (Philippines)
13.45 – 14.05
Dr. Naresh Magan – Minimisation Strategies for Control of Toxins Using Natural Compounds for Improving Food Safety (UK)
 
Plenary Lecture 4: Foodborne Fungi: Risks, control, and opportunities 2
14.05 – 14.25
Dr. Emmanuel Coton – Mycotoxin Migration in Moldy Foods: 2 Case Studies (France)
14.25 – 14.45
Dr. Okky S. Dharmaputra – Mycotoxins in Indonesia Food (Indonesia)
14.45 – 15.05
Dr. Latiffah Zakaria – Black Aspergillus from Various Substrates and Indoor Environment in Malaysia and Ochratoxin a Production (Malaysia)
15.05 – 15.25
Dr. Ignatius Srianta – Development of Monascus-fermented Products and Its Safety Aspect (Indonesia)
15.25 – 15.40
Coffee Break and Poster Session
 
Plenary Lecture 5: Food Safety 2
15.40 – 16.00
Dr. Jens C. Frisvad (Denmark)
16.00 – 16.20
Dr. Ratih Dewanti-Hariyadi – Challenges in Food Safety:  Sustainability Factors (Indonesia)
16.20 – 16.40
Dr. I Nengah Sujaya – Microbial Safety Aspect of Balinese Traditional Fermented Foods (Indonesia)
16.40 – 17.00
Dr. Widiastuti Setyaningsih (Indonesia)
17.00 – 17.20
Dr. Yoyok Budi Pramono – Development of Scoring Methods on the Application of HACCP and GMP in the micro, small, and medium Food Industries in Indonesia to maintain Food Safety (Indonesia)
17.20 – 17.40
Dr. Erryana Martati – Safety Assessment of Plant-based Food Supplement (Indonesia)
17.40 – 19.10
Dinner
FEBRUARY 21st, 2020

 

07.30 – 08.00
Registration
 
Parallel Session
08.00 – 10.00
Room 1 & Room 2
10.00 – 10.15
Coffee Break and Poster Session
 
Parallel Session
10.15 – 11.30
Room 1 & Room 2
11.30 – 13.30
Lunch Break
 
Plenary Lecture 6: Foodborne Fungi: Risks, Control, and Opportunities
13.30 – 13.50
Dr. Angel Medina Vaya – Non-invasive Methods for Detecting Spoilage Microorganisms in Fruits and Vegetables (UK)
13.50 – 14.10
Dr. Naresh Magan – Microbiota from Fermented Foods: Potential for Control of Toxigenic Moulds (UK)
14.10 – 14.30
Dr. Emilia Rico – Prevention of Mould Spoilage of Foods and Beverages: Using the Right Methodology (USA)
14.30 – 14.50
Dr. Emmanuel Coton – In Vitro Toxicological Evaluation of Mycotoxins: Getting Closer to Reality (France)
14.50 – 15.10
Dr. Warapa Mahakarnchanakul (Thailand)
15.10 – 15.25
Coffee Break and Poster Session
 
Plenary Lecture 7: Quantitative Microbiology
15.25 – 15.45
Dr. Andreja Rajkovic – Comparative Mitochondrial Toxicity of Bacterial and Fungal Ionophoretic Depsipeptide Toxins: Cereulide and Beauvericin (Belgium)
15.45 – 16.05
Dr. Antonio Logrieco – New Data on Multi-toxins and Toxigenic Fungi Complex in Herbs and Spices Worldwide (Italy)
16.05 – 16.25
Dr. Vasilis Valdramidis – Principles of Predictive Modelling in Food Mycology and Beyond (Malta)
16.25 – 16.45
Dr. Sarah De Saeger – Mycotoxin Human Biomonitoring and Toxicokinetics Studies (Belgium)
16.45 – 16.50
CLOSING